24 Mar

A
strap
on
is a
sex toy
ideal for couples eager to experience something new regardless of their preferred gender roles! The
strap
on
allows partners to provide penetration during intercourse, regardless of anatomy. People with a penis can use one and those without can too! This toy is no longer just exclusive to lesbian couples- everyone can enjoy it! With the strap on, heterosexual couples can reverse stereotypical roles during sex and those with a vagina can still penetrate their partner. It's also the perfect toy for anal penetration. It helps stimulate the rectum and prostate with extra thrill. If you are curious about what a strap-on can offer you, why not visit
Sexvibrators
and explore our selection of same-sex products today! There's no limit to the new heights of pleasure you could experience!
The Different Types of Strap On
The strap on usually comes in the form of a dildo that comes with an adjustable harness. This harness allows it to be placed around the waist and genital area.

Strap on with Harness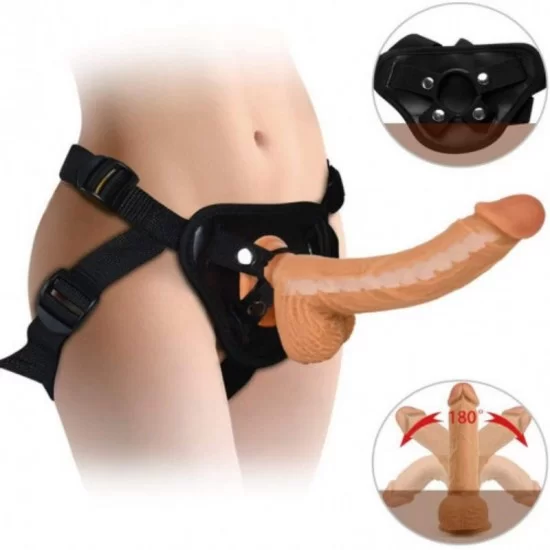 Harnessed dildos are available in different sizes. This allows for optimal use, regardless of your size or posture. In general, harnesses are adjustable with adjustable straps. A model whose harness is already adjusted to your size can also be purchased for your convenience. Most harness designs are made of polyester, nylon, or PVC. Materials that are comfortable to wear and won't shear you. Indeed, a leather harness will have a longer lifespan, however leather is a more fragile material. It expands after prolonged use. Already have the dildo and just want to buy the harness? So pay attention to the diameter of the sex toy which must be able to adapt to the ring of the harness!
Strap-on Without Harness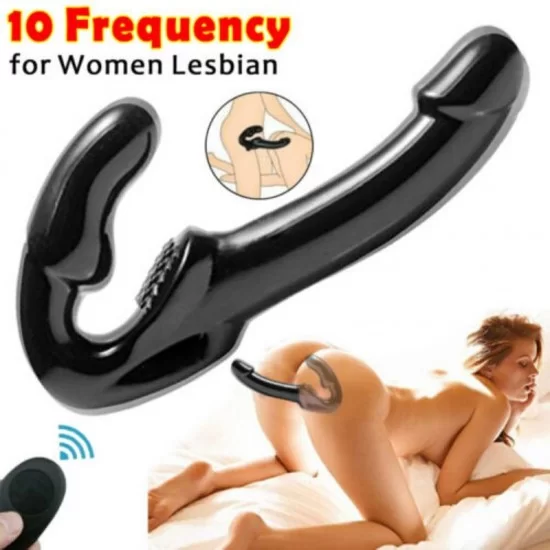 The harnessless strap-on, also called the strapless strapon, is suitable for heterosexual or lesbian couples. Indeed, the smaller part is inserted into the vagina while the other part is used as a strap-on. The latter is intended to satisfy your partner by stimulating their anus or vagina. Studied to stimulate both the G-spot and the clitoris, the strap-on is held in the vagina by the pelvic floor. These models therefore do not include a harness to hold the dildo in place. It is therefore important to choose a dildo size that is not too small in order to minimize the risk of expulsion and that it stays in place.
Hollow Strap on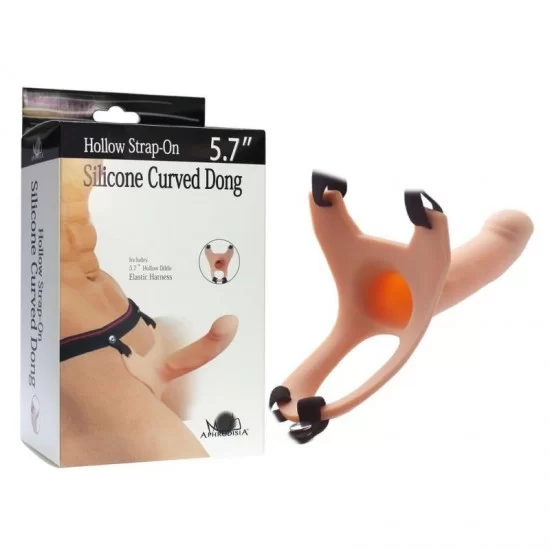 The hollow strap-on is the only type of strap-on that can be worn by someone with a penis. Indeed, in the case of this sex toy, the dildo itself is hollow, so that you can slip your penis inside, like a sleeve. To keep the hollow dildo in place, it can be attached with a harness. You will therefore have the possibility of inserting your penis into the hollow part of the dildo to increase its size! Your partner will then feel a more intense penetration!
Double Strap on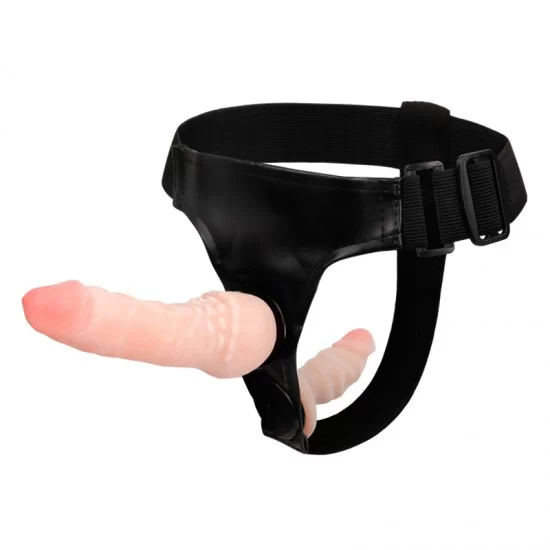 As the name suggests, two dildos make up the double strapon. It is mainly suitable for people with a vagina who want to satisfy their partner, while pleasing themselves. These models include a second dildo on the inside of the harness for simultaneous pleasure of both partners. They can be reminiscent of strap-on dildos without harnesses, however, these will not hold in place without the help of the straps.
The Triple-ended Dildo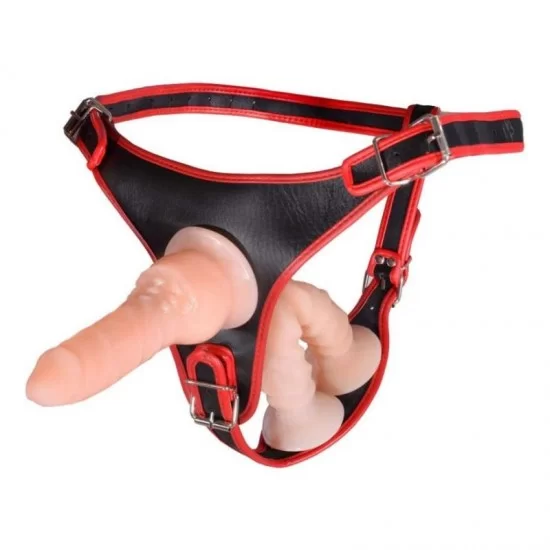 The triple-end dildo stands out from other classic strap-ons thanks to its 3 ends. The central part is inserted through the vagina. The specificity comes from the fact that you can also insert the part corresponding to an anal plug to enjoy a pleasurable double penetration. Finally, the dildo can satisfy your partner vaginally or anally.
Finally, dildos are available in all imaginable sizes, shapes, materials and colors. The various brands of strap-on have created enough products to find the one that will suit you best! You can also have very realistic or more playful ones.
Use your Strap on Well
First of all, to use it well, you have to choose the perfect strap-on for you! Take these different elements into account.
First choose the type of strap-on from those mentioned that meets your needs. You should select it based on how you want to penetrate or be penetrated.
If you choose a strap-on with harness, be careful to pay attention to the size of it!
There are also different sizes of dildo, make your choice according to your preferences and those of your other half. Once the ideal strap-on has been found, all that remains is to try it on! Start by putting the harness around your waist. Usually you can just put it on and then adjust the straps on the side to your size. Be careful that it is not too tight. Then attach the dildo to the harness.
Wait a bit before the act of penetration itself. Raise the temperature with oral sex, caresses, or sweet words. If the penetration is done through the anus, it is important to stimulate the anus little by little. When you are both or both of you very excited you can move on to penetration!
Make sure, especially with anal penetration, that you're using enough water-based lube. Do not hesitate to add more during the act if necessary!

Getting used to Wearing a Strap on
At first, wearing a harness and a dildo may seem weird to you. Indeed, it's all extra paraphernalia that you may never have worn before. It therefore takes some time to get used to this new part of the body.
To adapt to it more quickly, you can wear your harness as well as the dildo alone at home. Do your daily chores, wash the dishes with your dildo or watch TV. Take time to get used to it and imagine how the harness works with your body. The more comfortable you are alone, the easier it will be for you to use it with your partner.
You can also try masturbating with the strap-on on. Thus, you will therefore get used to taking it into account in the search for your pleasure. You will eventually come to function in symbiosis with it.
Finally, the contraction movements to move back and forth may not be familiar to you. Even if they are not usual, don't overdo it, go at your own pace. You need to find the moves that work for you. You can even ask your partner (in case the contraction movements are known to your half), to show you how to perform them! Moment of complicity and laughter guaranteed!

Possible Additional Options
Finally, there are several options that can be added to your sex toy. So we're going to take a quick tour! These can for example be vibrating in order to make you and your partner vibrate in unison! Some even exist with a dozen vibration modes!
For easier handling, they can also be remote controlled. The remote control can be wired or wireless.
To conclude, whether it is to enjoy penetration as a lesbian couple, to reverse stereotyped roles, or to fulfill your sexuality, the strap-on is a must-have!
However, take precautions before using it. If you use it with different partners, it is essential to cover it with a condom each time you use it. Finally, after use, clean your strap-on meticulously! Be sure to follow the instructions for use provided by the brand. Your toy will then last longer and in better condition!