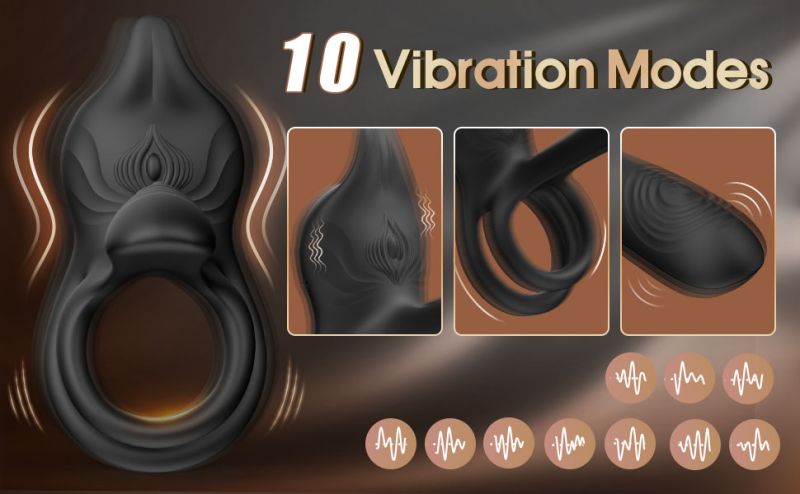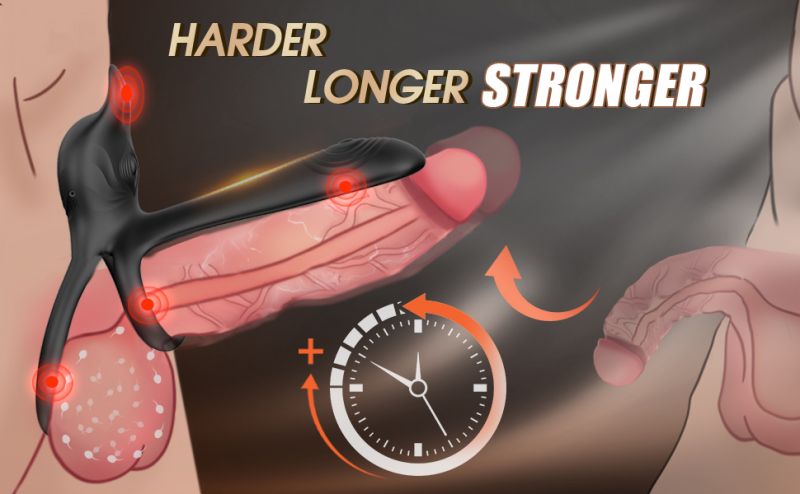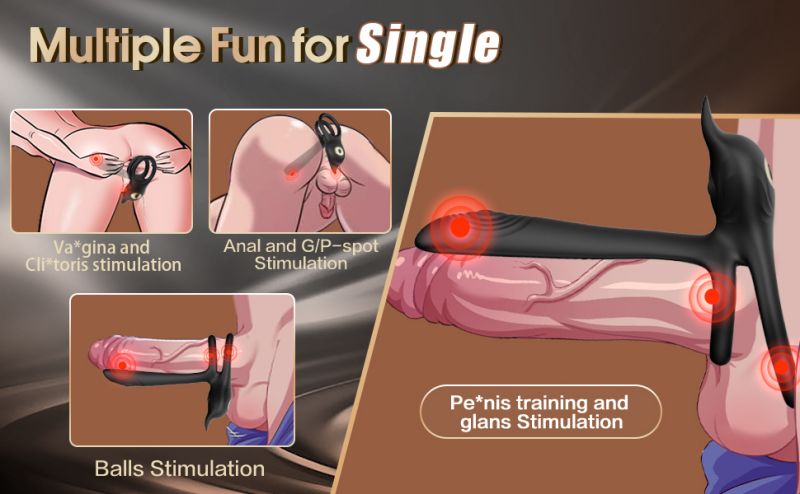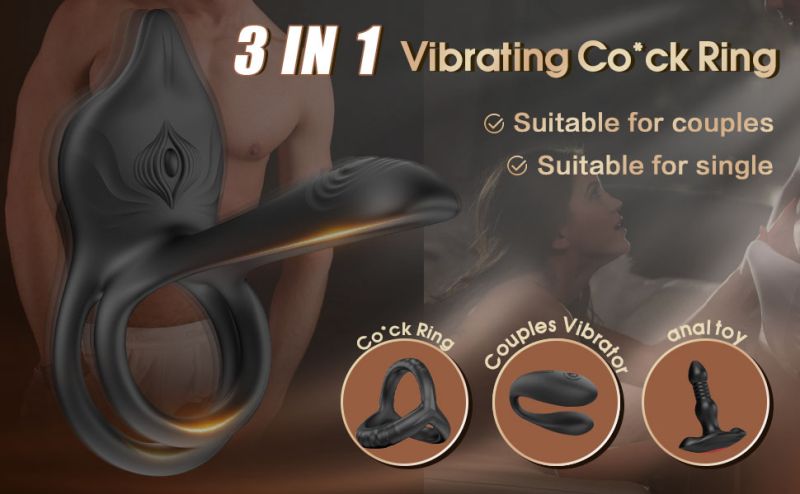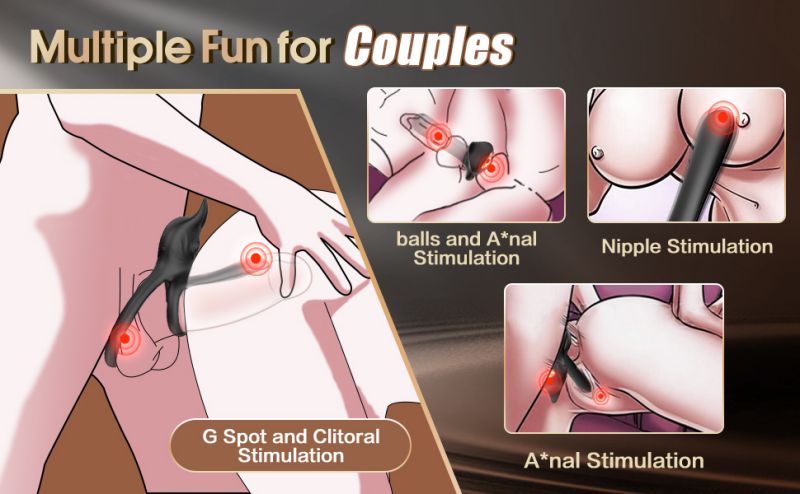 3 IN 1 MULTIFUNCTIONAL VIBRATING COCK RING
Our Vibrating penis Ring couple sex toy has two motors.
Different vibration positions and functions combine cock rings, couple vibrators and anal toys in a multifunctional vibrating penis ring.
Such an adult sex toys is not only pleasurable for men, but great for women too!
VIBRATING PENIS RING FOR COUPLES
For couples our multi-functional mens vibrator is perfect for reaching the P-spot or G-sp0t.
This penis ring can pleasure both the anus and her clit0ris during intercourse, while the double ring gives his penis a firm hold.
Or insert the long part as a penis sleeve at the same time for a more violent impact.
For the cost of one, you can give your partner triple stimulation from the clit0ris, G-sp0t and prostate, making him/her shiver between the legs!
POWERFUL 10 KINDS OF VIBRATION & REMOTE CONTROL
The couples vibrator penis ring has a built-in powerful motor with ten different vibration modes.
This silicone penis ring can meet your needs for extremely exciting sex.
One button to turn on different vibration modes, so you and your partner can enjoy the most extreme passionate experience.
At the same time you can enjoy our wireless remote control function to free your hands.
With the remote control, the control of reaching orgasm is in your hands!
ERECTION COCK RING FOR SINGLE
Still worried about whether it is suitable for single person use?
Don't worry, we have more stimulation and action for single people with this silicone cock ring.
Based on the human body design this vibrating cock ring uses two elastic rings, one for your penis and one for your penis pouch, to help improve erection hardness and duration, making your penis longer and harder, allowing you to ejaculate longer and promoting a perfect sexual experience.
Also the dual vibration points are designed to stimulate your glans and balls at the same time, and can also be inserted into your anus to use as a prostate massager.
3 in 1 Double Ring Mens Vibrator Come and feel the powerful !
Ergonomically designed at the perfect angle, this penis ring is not only pleasurable for men but also wonderful for women.
Cockrings are rings that are worn around the base of the bro and sometimes the testicles, fun to both solo and mutual play. This couple's vibrator increases pleasure for both the wearer and their partner. Suitable for couples flirting.
If your partner is female, vibrating cockrings can help stimulate your partner's clit during intercourse
If the partner is male, it can stimulate his dildo and anus also.
BODY-SAFE GRADE SILICONE COCK RING & PENIS SLEEVE
The penis vibrator is made of high quality silicone that is soft and flexible and can be easily stretched to fit different sizes, such as larger bodies.
Can also be used as a penis sleeve, simply slip it over your erection to add extra girth and length.
PERFECT ANGLE-BY VIRTUE OF ERGONOMIC DESIGN
With two stretchy rings that fit over the shaft and the balls to be worn comfortably along the shaft, this toy will sit securely above the shaft and has a bumper at the base to keep it from being pushed back.
This penis ring will slow down blood flow instantly to make your dick harder and bigger, and also a more durable erection to have a longer orgasm. Jump into the ocean of love, surprise your partner with your cock's remarkable firmness, and let her have a deep and satisfactory orgasm while reigniting the fire of love such that she desires it every night.
IPX7 WATERPROOF
this cockring has an IPX7 waterproof rating. Making it the perfect companion for the shower or bath.
STRETCHY FOR VARIOUS SIZES
This cockring is made from flexible soft silicone, you can stretch it to fit for your own size. It's soft and comfortable to wear.
PRIVATE PACKAGE
The vibrating pens ring will comes in discreet package. No sex or senstive word on your package of the sex toys.