Rechargeable air suction clitoral stimulator
If you haven't experienced the mind-blowing orgasms that await you with the latest in sex-toy technology, then it's time for you to get on board! We're talking about touchless, suctioning, gentle air massaging waves that are meant to imitate oral sex. But to compare the Womanizer to oral sex is an insult - to the Womanizer, that is.
This newest Womanizer also features an improved ergonomic design, so it's even more comfortable to hold while you pleasure yourself away. It has a smooth silicone tip and is turned on with a simple touch of the main button. And 8 intensity levels start from gentle and quiet and slowly make their way to...the most amazing, mind-blowing, world-rocking orgasm that you could ever experience. And even with all of those superlatives, that's still an understatement.
Another one of the fantastic aspects of the Womanizer is that you don't have to worry about overstimulation, or that feeling when your clitoris is just not having it anymore. When you just use your fingers, or some vibrators, to orgasm, your clitoris gets fed up with all that touching and rubbing and loses all sensitivity. Since this toy doesn't actually come into contact with your clit, you won't lose feeling and you'll be able to come over and over again.
Highlights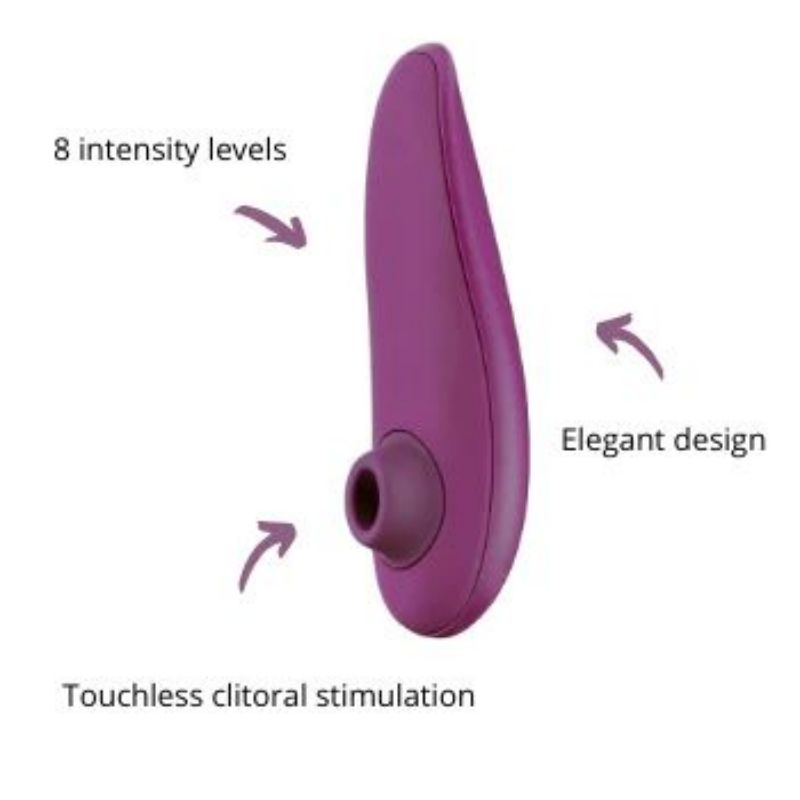 Infographic: Features & Highlights of Womanizer Classic

How to Use
To use the Womanizer, we recommend that you first try it on your fingertip, just so you understand that what you'll be experiencing are not vibrations, but airwaves. If you press it flush against your finger or thumb, you'll see how it gently seals into place. When you're ready to use it for real, spread your labia apart so that your clitoris is exposed and place the toy's round mouth over your clitoris, without touching it, but so the silicon ring encloses the clitoris. Make sure to maintain a tight seal by applying light pressure the entire time. Start slow and work your way up through the settings. You can take it all the way to the top, but make sure to stop along the way and enjoy the buildup. As with all of your sex toy, make sure to wash it when you're done.
Expert Tips
Start slow with this one! Tease yourself at first at level one and resist the urge to speed up too quickly.
For an aquatic orgasm, take it into the tub with you, after all, it's waterproof!
Combine with a dildo to add G-spot stimulation.
Use this toy during sex - its small size and discreet design make it the perfect toy to pice things up with a partner.
Specifications
Imported from Germany
USB rechargeable
8 intensity levels
Waterproof
Whisper-quiet
1 year full warranty
Total Reviews (0)
click here write review to add review for this product.